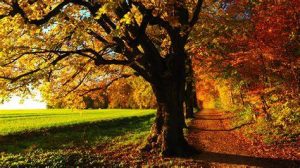 "It's Fall Y'all" and it FINALLY feels like it this morning. For many of us at FirstTrust Home Loans it is our favorite time of the year. I love incorporating our employees on our bi-weekly blog posts and I asked them to send in what they love about Fall.
Here are some of the responses along with some favorite Fall Recipes at the end:
The crisp air and leaves changing. – Heather Buck – Underwriting Manager
I mean there's nothing else better than Razorback football on the hill. – Brannon Kotch, MLO Cabot Branch
Cooler temps and the changing colors of the season. – Erika Martens, CFO
The exit of mosquitos!!!! Oversized sweatshirts. Campfires. Fresh cool mornings. Morning fog. Creamy Chai Latte. Making hot cocoa for my son. Every oddly colored pumpkin. Riding boots! - Lindsay Bridges, Compliance and Risk Officer
I'm looking forward to Friday night lights & cool crisp temperatures. – Karissa Clemons, MLO Heber Springs
I love to bake during fall. Homemade pumpkin bread and lemon blueberry bread. And I love decorating my porch. – Madonna Daniels, Branch Manager MLO, Fort Smith
College Football and Hunting Season!!!! – Brandon Clemons, Vice President of Production
I love cozy sweaters, fuzzy socks, and crisp morning air in the fall! I spend quite a few mornings drinking tea or coffee on the porch wrapped in a blanket. It doesn't hurt that my birthday happens to be in the fall as well 😊 – Dennisica Johnson, Underwriter
My favorite thing about fall is deer season, bonfires, chili, and my favorite holiday Thanksgiving. I love Thanksgiving so much that I got married on Thanksgiving Day 😊 – Michelle Rocha, Closing Manager
Deer season! Chili (with beans, of course. It's not chili w/out beans) The smell that popped into my head was mulled wine in crock pot. – Bryce Farmer, MLO Heber Springs
A weenie roast with chili!!!! – Erin Henry, Processing
Crisp morning air and coffee on the patio, baking and Hallmark Movie season begins!! – Sherry Rogers, MLO Wynne, AR
I personally love the first really "cold" day of fall. 40s or 50s. The air just smells crisp. I love hot tea, warm sweaters, and of course it's soup season at my house. – Samantha Deen, Underwriting
I have already decorated my house for Halloween! I have Michael Myers head as the centerpiece on my dining room table! 😊 – Kayla Whatley, Branch Manager MLO Shreveport, LA
Hocus Pocus part 2 and so many adult and family fun events. Carving pumpkins, change in wardrobe, the crisp temps in the air, change is always GOOD. – Carla Smith, MLO
Personally, I am just ready for this baby to come but that doesn't have much to do with fall so I would say football, bonfires, and temperatures before 60! I can even paint my belly to be a pumpkin if that helps drive social media activity LOL! - Lindsay Barbera, Vice President Strategic Growth and Product Development
Personally, I'm ready for Spooky Season. I love all things Halloween. The decor, the costumes, the pumpkin carving, the Spirit Halloween stores bringing life to dead strip malls. – Sierra Niederhauser, Director of Secondary Marketing
DUCK SEASON!! AND I'M NOT TALKING ABOUT LSU THROWING A PASS!!! – Robert Stavely, MLO
Razorback football, red hair, Cute boots, Pumpkin patches, Cozy sweaters - Dedra Baugh, Loan Systems Administrator
SWEATER WEATHER!!!! Leggings sweaters and boots!!! The scarves oh my word the scarves. College football 🏈 Cinnamon and pumpkin EVERYTHING. I LOVE ALL THINGS FALL!!!! - Amber Mayfield, Underwriting
Bonfires and cool nights! – Kristin Honeysuckle, Closing
My favorite thing about fall is Friday night lights at the football field, cooler weather, campfires, and all things pumpkin spice! – Lauren Johnson, Branch Manager, MLO
Hoodie weather and hunting season😍 – Kaitlynne Batchelor, Processing
WELLL… We ALL know I am Basic sooo PUMPKIN SPICE ANYTHING AND FOOTBALL BABY!!! - Kyle Valance, Post Closing
Favorite Fall Recipes:
White Chicken Chili –
Ingredients:
1 lb chicken breast
1 yellow onion chopped
2 cloves garlic minced
1 can chicken broth
1 can cream of chicken
2 cans great northern beans drained and rinsed
2 cans diced green chiles
1 can whole kernel corn drained
1 tsp salt
½ tsp black pepper
1 tsp cumin
¾ tsp oregano
½ tsp chili powder
¼ tsp cayenne pepper
Small handful fresh cilantro chopped
2 oz reduced fat cream cheese
Pumpkin Dip
Directions:
Add everything except cream cheese to the crock pot and stir to combine. Cover and cook on low 8 hours or high 4 hours. Remove chicken and shred and return to the chili. Add in cream cheese and cover and cook again until the cheese is melted and chili is creamy and slightly thickened. Stir well and top with desired toppings.
Ingredients:
8 oz Cream Cheese
1 C Brown Sugar
¾ tsp ground ginger
½ tsp ground nutmeg
2 tsp cinnamon
15 oz canned pumpkin puree
Directions:
Soften the cream cheese, and then place in a mixer or food processor and whip until smooth. Add in the next four ingredients and blend until fully incorporated. Transfer the mixture to a bowl and add in Pumpkin. Stir well. Refrigerate covered until ready to serve.
**Goes really well with Ginger snaps