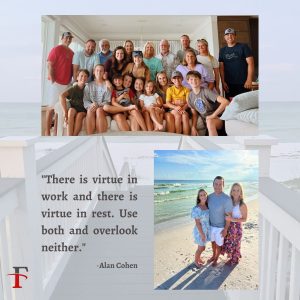 We have made it to the dead heat of Summer and some of us are anticipating an upcoming vacation before school starts back. If you haven't already planned your trip, and you are anything like me, you are dreaming of your next. There are some important benefits of using your PTO or even just traveling someplace nearby for the weekend. Here is why you should consider getting away:
1. It will increase your happiness –
If you are looking to just relax and enjoy being away from your norm, expect your happiness to increase too. Vacations or get-a-ways always provide a recharge that helps increase the serotonin in your brain. Plus, if you have kids there is nothing better than seeing them excited to be some place new or just away from home.
2. Reignites a spark for your work –
When you've been away from work, the recharge often reignites a spark for what you do. You typically come back refreshed and ready to work. You have had time to let your brain rest and you are ready to be creative when it comes to problem solving and you also feel more productive in the process.
3. Strengthens family relationships –
When you get together with family, or your significant other can strengthen your relationship through quality time spent. This time away allows you to solely focus on enjoying yourself and the people around you with no distractions or interruptions from work. These trips are vital, as life goes on you can begin to feel distant from those you love, due to working long hours.
Our CEO at FirstTrust Home Loans, Glenn Strong, just took a family vacation with both sides of his family. He said, "Admittedly, I'm not always very good at resting or getting away, but I really am glad I made the time to take this trip. It sure is easy (especially in the mortgage industry) to overlook the value in getting away and recharging." Basically, we are saying take the trip! Your team is in place to support you and your recharge will prove to be invaluable when you return.