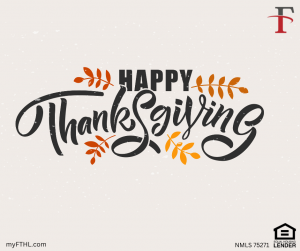 With the Holiday season fast approaching and Thanksgiving being celebrated this week, FirstTrust took a moment to reflect on things we are "Thankful For". Taking time to reflect is always a good thing, it makes the hard times seem less difficult when we list off all the blessings we can count. I know we try to make a point to be thankful year-round and not just the holiday season.
Here are a few things our employees had to say:
"I have so many reasons to be thankful in 2022, but my little family always tops the list. My husband, Brad and daughter, Bebe make my world go round! They are the loves of my life. I don't know where I would be without them, and I pray I never have to find out ❤" – Dedra Baugh, Loan Systems Administrator
"I am most thankful for my little family. As my kids get older and have started leaving our nest, I have realized just how precious time is. Now if I can just get a grandbaby before next Thanksgiving, I will have a whole new thing to be thankful for 😊" – Michelle Rocha, Closing Manager
"There is so much to be thankful for and I could easily say I'm thankful for everything and truly mean it, but among all the things I could choose, I am most thankful for Tucker and Kannon. While I'm often quiet and analytical, they are both funny and spontaneous. Tucker is brave, compassionate, and never meets a stranger. Kannon is smart, silly, and wise beyond his years. They both have a quick wit and are masters of the art of sarcasm! There's never a dull moment in our house and I love that they are always both so good at reminding me not to take things (and myself!) too seriously! 😊 The blessing of a happy home should never go unappreciated, which is why I am so thankful for mine!" – Erika Martens, CFO
"I have a million things to be thankful for, as I've been blessed more than I deserve. I am thankful for my heavenly father, my family, work family, friends, my health, and all the small things that are actually big things when you don't have them! Things like a roof over my head, transportation, clean water, food, etc. I am thankful and so blessed!!" – Renae Austin, Appraisal Desk Manager
 "I am thankful for God's provisions this year.  Our family has been through a lot in 2022 and with every question mark we had; God showed us a way and with that, was His answer.I am very thankful for my family and my little farm.  I am thankful for FTHL and the people I get to work with." – Tonia Morgan, Processor
"This is such a great idea Camden. My list of things I'm thankful for Is very long this year  but on top would have to be my sister, who suffered a cardiac arrest in her exercise class, coded 3 times, spent a week in ICU, then 3 months in neuro rehab. The first picture is at rehab, the second was her homecoming. She's still recovering and suffering from short term memory loss but has fought her way back to us. My family is so very blessed🥰" – Cathy Rasmussen, Mortgage Loan Originator
"I'm thankful for my beautiful and amazing family for all their love and support while I do what I love every day. I'm also thankful to be able to work for the best mortgage company in the business, and to have the awesome people in our company that have poured so much of their knowledge of the business into me to help this be an amazing year!! I'm a very blessed man in so many ways and thank God every day for those blessings." – Drake Widener, Mortgage Loan Originator
"I am thankful for my family; the man God put into my life and our miracle babies ❤" – Heather Buck, Underwriting Manager
"My friends and family – That is what I am most thankful for." – Amber Mayfield
Most of all we are thankful for our customers who are much more like family to us. From all of us at FirstTrust Home Loans – Happy Thanksgiving!